The Housing Choice Voucher (HCV) Program is the nation's largest low-income rental assistance program. Nationwide, Section 8 Housing Choice Vouchers serve approximately 2.2 million households. In 2016, nearly 1.3 million of these households were served by CLPHA member public housing authorities.
The program targets the lowest-income families. At least 75 percent of new voucher holders must have incomes that are below 30% of their area's median income. In 2016, at least 66 percent of households receiving rental assistance through the HCV program were extremely-low income, earning less than $29,500 for a family of three. Median household incomes among tenants served by CLPHA members are approximately $14,500.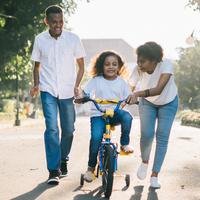 Who Does the Housing Choice Voucher Program Serve?
While targeting the most economically disadvantaged households, the HCV program also serves the most vulnerable. In 2016, 60 percent of HCV households were elderly (36 percent) or disabled (24 percent). Thirty-five percent of HCV households included children under the age of 18. CLPHA members served 23 percent, 506,928, of voucher-assisted children in 2016. Of those non-disabled, non-elderly HCV households, 75 percent were working, worked recently, or likely were subject to work requirements.